The fastest way to get ACDI products »

Let your data tell your story
Don't bury yourself under a mountain of spreadsheets, systems, and databases. Why bother with the headache? StoryBoard pulls in your PaperCut data  and displays it in an organized, easy-to-digest, and elegant dashboard. With powerful, customized filtering options, you'll see your data like you never have before – the way you want it. That's business intelligence.
"You can only manage what you measure."
At ACDI we use multiple software suites – CRM, Accounting, Support, Marketing, Project Management, etc., all with repositories full of data about the companies we've worked with over the past 25+ years. But how can we compare the data? Is our support ticket response time affecting our net promoter score? How are sales call volumes trending with our net new license rates?
We had all the information, just not in the same place. That's why we created a dashboard, an analytics dashboard, all of our data in the same place filtered the way we want it in a visual way that's easy to understand. Believe us, it made all the difference.
It worked for ACDI, we know it'll work for you.
Turn your data into business intelligence.
StoryBoard is a powerful platform for better productivity in your business. View real-time data in a way that's easy to digest so you can take action. Easily create a customizable, interactive dashboard to track company KPIs, departmental goals, project milestones, and more. Reach deep into every facet of your operations and get meaningful business intelligence.
Audience – Target Market/Customer
Enterprise clients looking to augment their existing data teams
Midsize companies looking to implement analytics or replace an ineffective solution
SMBs looking to implement analytics for the first time to make better decisions
Customizable dashboards showing you exactly what you want to see
Data brought in from multiple sources, giving you a single source of truth
A dedicated analyst to help you understand
Use your data to make better decisions
Cloud-based service, no need for setting up any infrastructure
We're Your Chief Data Officer

Use our custom connection to collect your data. The StoryBoard platform makes it easier to be successful. 

Store your data in one location for all departments to use collectively. With better organization and accessibility comes better efficiency.

Filter your data with custom fields, properties, and algorithms so the insights you receive are relevant to your business. Cut out the clutter for better insights.

Tell a better story with your data. Use visualization to help everyone in the company understand and act on data insights quicker and and in a more efficient manner.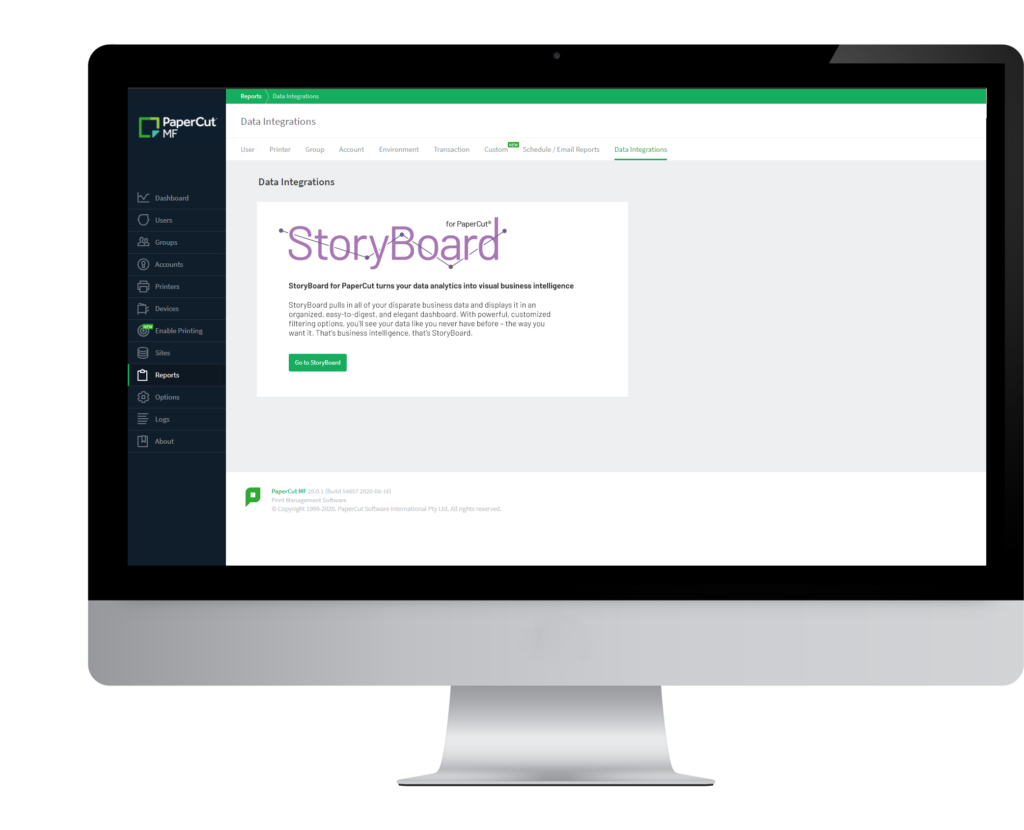 Advanced Insights and Analytics for PaperCut Data
All the StoryBoard analytics and insights designed specifically for the best print management software in the land, PaperCut.
Launch StoryBoard directly from the Integrations tab inside of the PaperCut 20 dashboard.
No need setup those PaperCut reports. StoryBoard gives you instant, real-time visualizations of your PaperCut installation.
With infinite ways to click and drill-down in your data, the advanced comparison and benchmarking analytics will tell you the real story.
Set up StoryBoards for individual customers and rock your next QBR!
Oh, and in true PaperCut fashion, an environmental dashboard based on user habits. Very earthy!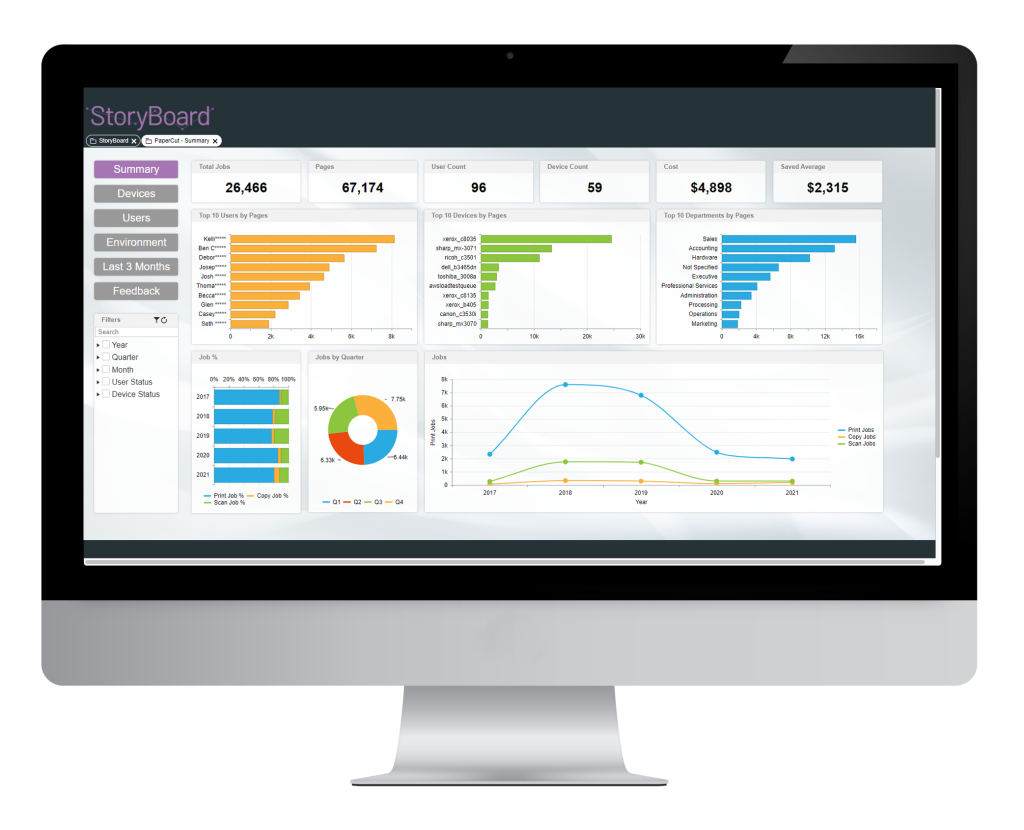 Multiple storyboard views including by users, by devices, environmental, and summary StoryBoards.
Quick-glance metrics at the top of your dashboard for ease of use.
Multiple data styles for better visualization.
Simply click to drill down or filter by any available metric.
View reports based on the custom date range you set.
We know it's a lot to take in all at once and that questions are inevitable. Please reach out – we love talking about how our solutions will streamline your business processes regarding security, cost savings, accountability, accessibility, analytics, and more.