Terra Energy Services Supercharges ISDA Meeting
Just as LeBron James once famously did in the summer of 2010, the Terra Energy Services team recently took its talents to South Beach. Sales Director Damian Cairns and I had the pleasure of attending the 50th Annual ISDA Meeting in Miami. The ISDA Dealer Network is a group of professional distributors that provide industrial and backroom storage solutions for businesses throughout North America. With Terra Energy Services as a Platinum Sponsor, the event was filled with networking and sharing opportunities in the growing space of EV charging stations. Join me as I take you through our exciting week on the sunny shores of Miami Beach.
Presenting the Portfolio Opportunity
Following opening remarks and a dynamite kickoff address from Sales Octane's Jim Ryerson, Terra Energy Services had the opportunity to deliver the first presentation of the week as Damian discussed the EV revolution, our turn-key solution, and how ISDA members fit seamlessly into our growing network of reseller partners. Much like legendary pros Ichiro and Rickey Henderson, Damian thrived in the leadoff role and set the stage for an event with bubbling enthusiasm and engagement around the EV charging space.
"The opportunity in front of us, collectively, is absolutely huge," he said. "If you look ahead to 2030, the EV space is going to be a $25-30 billion market and even bigger than that in the years to follow. Our turn-key solution provides a path to capitalize on the growing opportunity, and with hardware, software, service, and financing, we are a single source for all things EV that you and your customers will need."
Engaging with the ISDA Network
Building off the excitement from Damian's presentation, we looked forward to a chance to speak with members of the ISDA Network. Unlike the traditional passive trade show traffic model, this event featured speed networking sessions which gave us the opportunity to connect and engage with dealers and salespeople one-on-one. With each conversation, the sentiment about EV charging stations became more and more clear. Savvy dealers recognized the potential and were eager to get started.
While the ISDA and its member firms are known as industry leaders in storage and office systems, these dealers are also adaptable and well-equipped to add EV charging stations to their portfolio of offerings. Similar to our partners in the office imaging channel that have seized an opportunity to pivot into this new market, these speed networking sessions revealed that several ISDA members are ready to embrace the EV revolution. That enthusiasm and demonstrated experience delivering solutions and service combined with longstanding relationships with education, healthcare, and government agencies make the ISDA Network and Terra Energy Services a logical pair.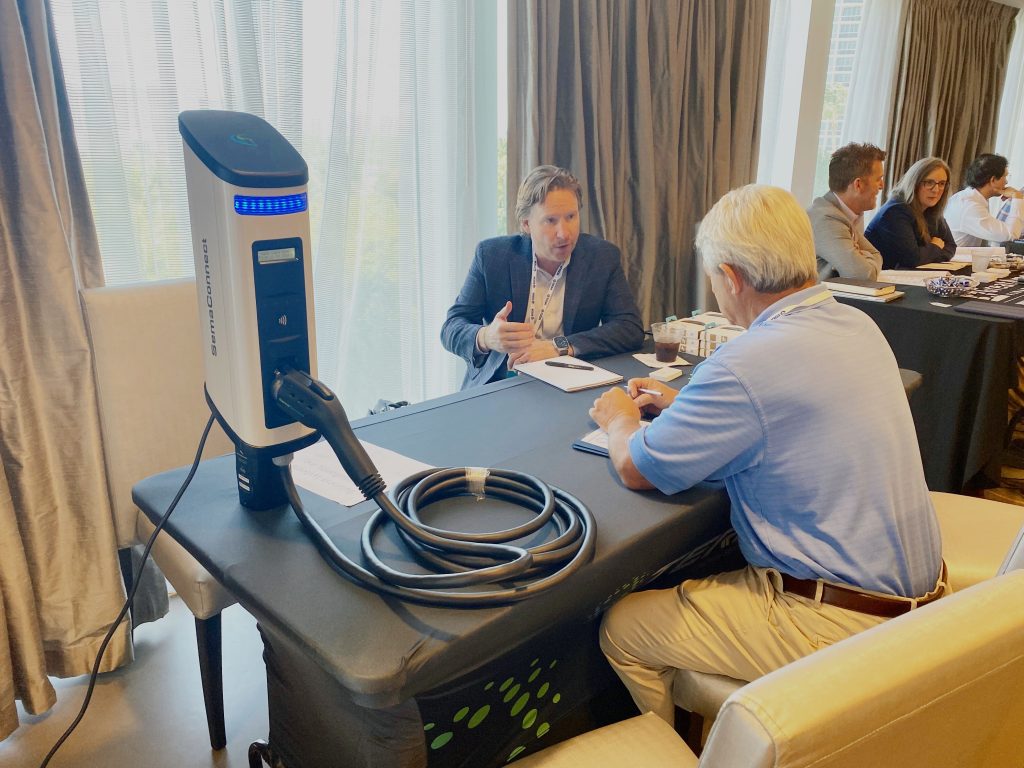 Observing the Miami EV Market
Of course, no trip to Miami would be complete without some sightseeing and visiting the area's most iconic landmarks and locations. While I've never been much of a morning person, it was hard to complain about starting each day with stunning views along the shore in Sunny Isles. A short walk from the hotel to the ISDA Meeting also provided an unprecedented opportunity for this central Arkansas resident to see some of the world's most luxurious vehicles on the market. Lamborghini, Ferrari, and Maserati sports cars were a dime a dozen, along with, fittingly, a steady dose of electric vehicles.
However, despite the heavy presence of electric vehicles on the road, we didn't spot a single EV charging station from Sunny Isles to South Beach. While it's safe to assume that EV drivers in Miami are utilizing home chargers, the lack of publicly available charging stations in such a heavily populated location served as a stark reminder of the desperate need for sustainable infrastructure to support widespread EV adoption. That's why Terra Energy Services and its partners are committed to making electrification accessible to everyone. It's our mission to make EV charging effortless for commercial, fleet, and residential environments.
Terra Energy Services Reseller Network
At Terra Energy Services, we're excited about the opportunities that exist for the ISDA Network and many others within our growing network of authorized resellers. With rebates and incentives available through Federal and state programs, now is the time to embrace the next generation of infrastructure with EV charging stations. Ready to get started? Contact us to learn more about our turn-key solution for partners.