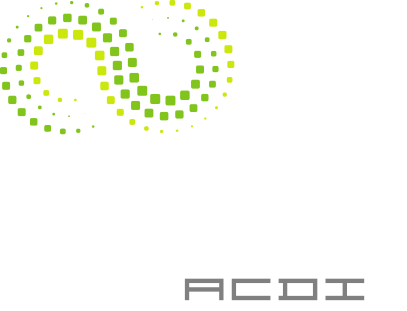 Sync connects your PaperCut Hive data securely with Tableau Desktop.
Tableau Desktop is a tool that transforms data into interactive visual representations and actionable insights. Sync connects the Power of Tableau and PaperCut Hive data, allowing you to easily spot trends, identify opportunities and make decisions that help drive your business.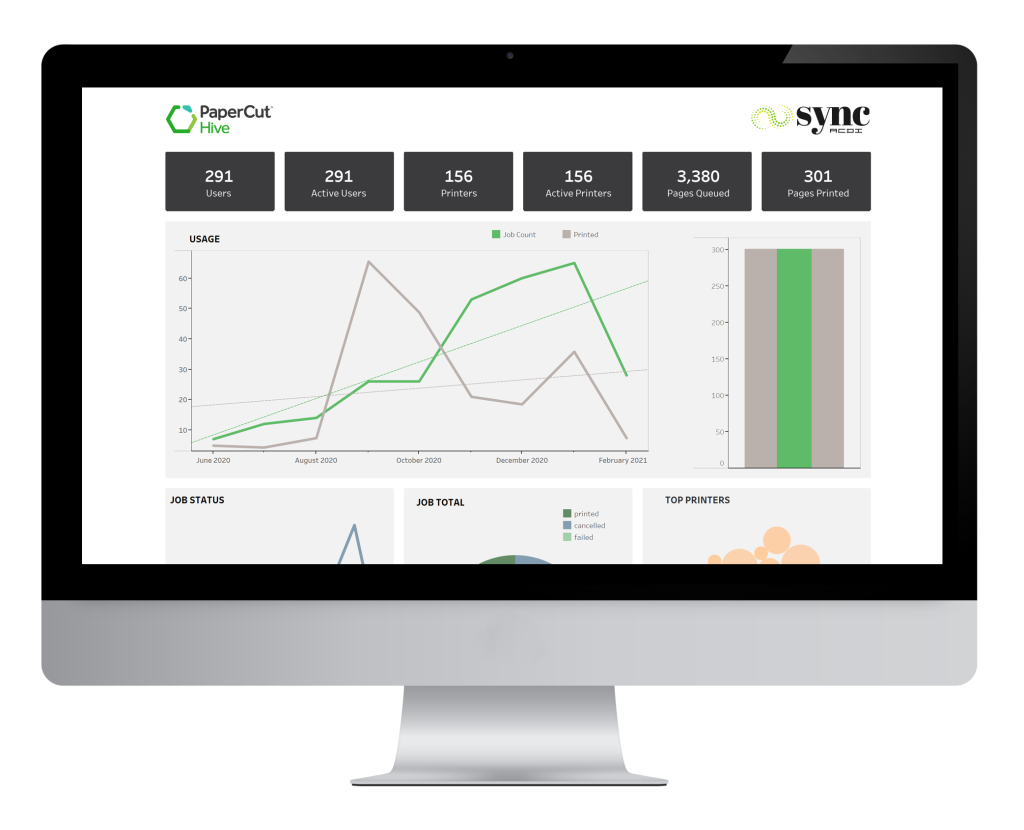 It's your PaperCut Hive data, just better.
Discover your top users based on their print activity, such as who prints the most overall, along with who utilizes duplex and grayscale vs single-sided and color. It's all available in our plug-and-play pre-designed dashboards.
From DIY to HELP!... we've got an option for you
Whether you're a seasoned Tableau designer, have one on staff, or don't know what a Tableau designer is, ACDI has you covered. We offer three options for displaying your hive data when it comes to Tableau. From a free option all the way up to a completely customized solution.
Got a Tableau designer on staff? All you need is the raw data? Awesome! The free Sync connector is all you'llll need to start seeing your Hive data in a different way.
Need a completely branded, customized set of Tableau dashboards developed specifically for your organization? Yep, we can do that! This package includes ACDI consulting and development services that are second to none.
You've got the data connected – Great! Now, what does it all mean?
Purchase a pack of consulting hours and we'll help you better understand what your data is saying. Consultants are here to help you make the most of your Hive to Tableau experience.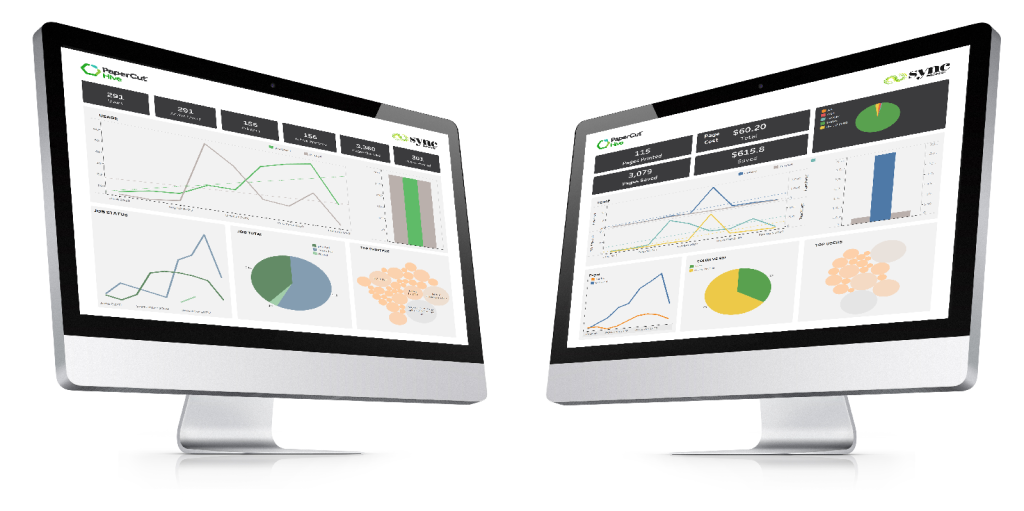 Tell your story with plug-and-play dashboards
We know there's nothing more frustrating than purchasing a software solution that's so cumbersome or hard to set up that you don't see any tangible results for months, or ever! We won't mention names here, but we're currently in this situation with a high-priced piece of software ourselves. Because of that, we wanted to make sure you get the value of our product right out of the gate. It's why we've developed plug-and-play Tableau dashboards, that for just a couple of bucks a month, give you the true insights of your Hive data in a visually stunning, no-nonsense, and easy-to-understand manner.

HOW SYNC WORKS WITH PAPERCUT HIVE
Sync for Tableau will leverage Tableau Desktop's built-in web data connector. It creates a unique URL for Tableau Desktop to connect to your PaperCut Hive data using a secure HTTPS connection. All data is transmitted over HTTPS and will only pass through the Sync connector and will never be stored on ACDI servers. It's security like you would expect, and insight like you can't believe.
We're glad you brought it up! The good news is that if you have PaperCut Hive and Tableau, you have already invested! Sync is a free add-on that can be connected through the PaperCut Hive dashboard under the manage tab. It's that easy to start viewing the kind of data visualization, that helps you tell a better story. It helps everyone in the company understand and act on data insights quicker and more efficiently.
Support when it matters most
sync.support@acd-inc.com | 7am to 6pm cst. Monday – Friday


ACDI sets the standard for support and service while ensuring the software solutions you buy work when you're ready to work. When developing and supporting add-ons to connect your existing data in one convenient location, the same guarantee still applies. 
We pride ourselves on the service and support that we provide and Sync is no exception. We'll work tirelessly to ensure connectivity between Tableau and PaperCut Hive so you can strategically view the data you rely upon.