Building your Conquest Account List with LinkedIn
How to Develop Your Prospecting Game by Using What You Have
Prospecting doesn't have to be a dreaded professional development exercise. It can and should be used to increase your pipeline and expand your network of relationships by leveraging the existing relationships you already have in place. If you aren't using LinkedIn to prospect new business opportunities, you haven't been paying attention.
Seriously, "Of all B2B leads that come from social media, LinkedIn is responsible for 80%." That means that "4 out of 5 leads come from LinkedIn."  Do we have your attention yet? Good. So, while we've got you here,  we believe it's not too late to develop new habits and change how you approach new business. Now that we all agree that we need to be using LinkedIn let's look at how to do it.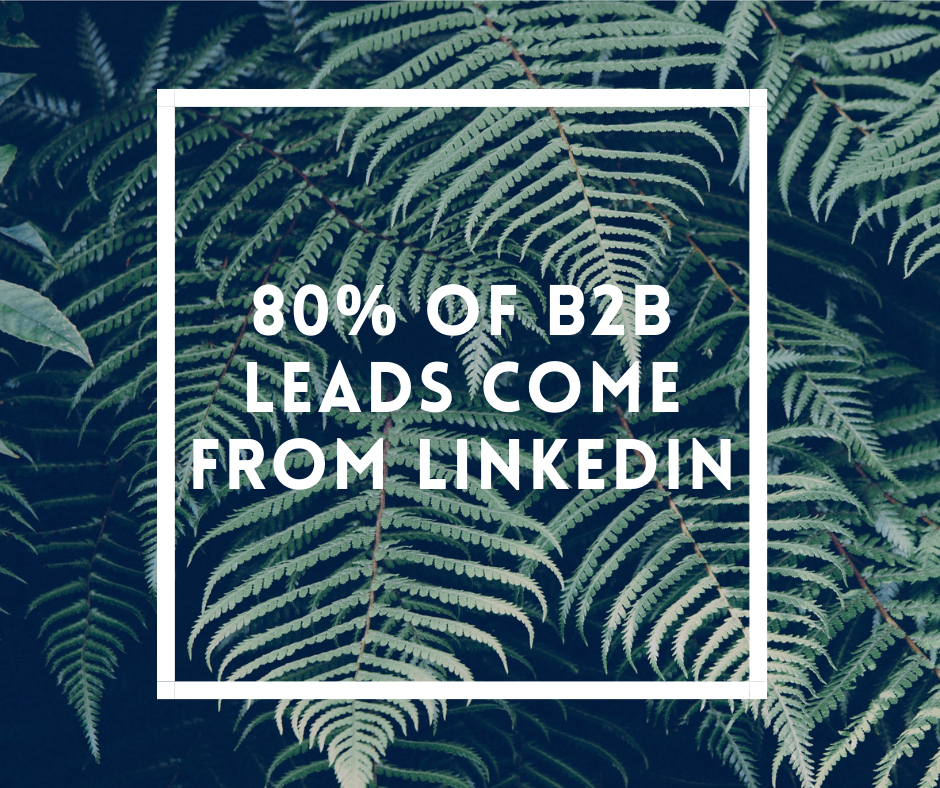 We've laid out an easy-to-follow process below to help get you started with digital prospecting through one of the most valuable resources you already have at your fingertips. Let's use your existing relationships as the building blocks for constructing your Conquest Account List!
Step 1: Research LinkedIn and Make a Plan
Research… if I get an audience there, who would I want an audience with?

Write down the name.  You want a name right here. Not just the company. A Human Being's Name!

Have a backup. If that person doesn't connect, and you still want that company, who's next there?

We've included an example below

Step 2: Find a Mutual Connection – Leverage Them
Look for Mutual connections at the company you're "targeting."

An ideal introduction to your Named Conquest list comes from one of the following:

1st "texting friend" is someone you can text.

2nd mutual connection that you can ask for a favor.

When you find a connection -send a message to that person directly and make the ask 

Example: "Hey, I have a favor to ask!" (usually, people won't say you are out of favors, these people want to help you.) When you find a connection 

Say exactly what's going on "I'm doing some outbound prospecting, and I'm trying to get an audience with Bryan Neale.  I see that you're connected with them on LinkedIn. Do you know them well enough to connect me, and would you?"  

What's the direct ask? You need a surface intro only – They don't need to vouch for you.

If possible, get their contact information and contact them outside of LinkedIn. Not everyone checks LinkedIn messages…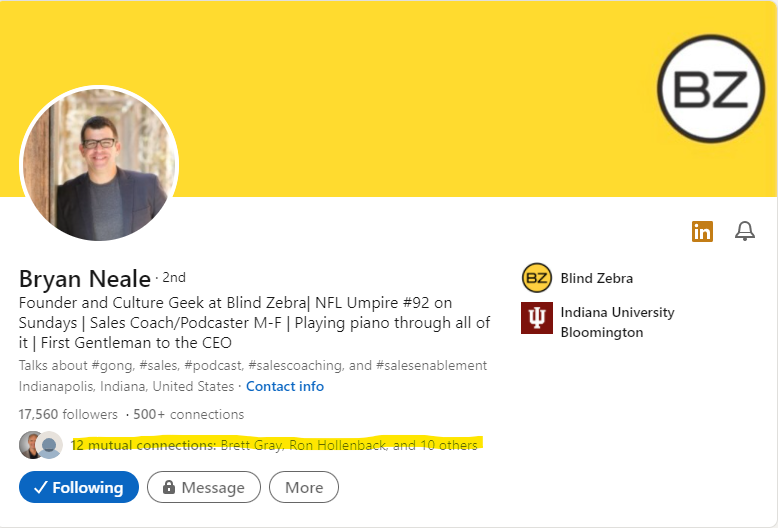 *Bryan and I have 12 mutual connections: That's 12 individuals who have the opportunity to help you get connected.
Step 3: Manage the New Relationship
 You should be able to handle this one on your own, champ!
If you are still not convinced, let me paint you a picture. Have you ever met a gatekeeper that seemed as though they were auditioning to be the understudy for Saint Peter at the Gates of Heaven? If you haven't, chances are you are way behind on prospecting, so I'm glad you've found yourself here. We've all met those gatekeepers, right? That impassable sentry makes you question your own sales skills. Time and time again, I found myself in the same situation. I was hitting a brick wall. Instead of pivoting, I gave up. Until I finally tried this approach. I knew who I was going after. I knew people who were connected with who I was going after. Light Bulb! I sent my conquest a connection request on LinkedIn; this put me on their radar. I wasn't in their inner circle yet, but I had breached a barrier. Then, I reached out to my existing connection and asked them to connect me with my conquest. Wouldn't you know it, they accepted my request, three days later. I was floored. I felt as though I held the secret to success, and I was now the prince of prospecting. This strategy allows you to circumvent disappointment in the first place. I'm not saying it's a magic formula, but nine times out of 10, it's going to get you closer than you were before. 
If you would like additional information on prospecting from ACDI, reach out to one of our awesome sales representatives; they'll be busy prospecting, but we'll make sure they make you a priority. Phone: 800.990.2234 or Email: sales@acd-inc.com
Source | *https://findstack.com/linkedin-statistics/#LinkedIn_B2B_Sales_Statistis