Google announced that PaperCut has become an inaugural member of the Chrome Enterprise Recommended partner program.
Specifically, PaperCut's print management solutions Mobility Print with PaperCut MF and PaperCut NG are verified as Chrome Enterprise Recommended products for Chrome OS.
That's super exciting stuff for PaperCut. It means their solutions are recognized by Google as fully compatible with their solutions.
But let's back up for a second. What is the Chrome Enterprise Recommended program? Why does it exist? And who came up with the acronym CER? Ok, you can probably answer that last one yourself pretty easily, but as for the rest – read on.
Why does the CER program exist?
The Chrome Enterprise Recommended Program shines a spotlight on exceptional partner solutions that deliver an elevated set of features and support on the Chrome OS platform.
There are several categories within this program, including "Identity", "Access management", and "Virtualization". The program's an important one because more and more workplaces are switching to the Chrome OS ecosystem. It's critical that those businesses use add-ons and third-party software that has been verified by Google. The last thing a busy systems administrator needs is incompatible (or untested) software interfering with a team's work.
Wait a minute … PaperCut's already part of the Google Cloud Partner Advantage Program. So what's unique about Chrome Enterprise Recommended Partnership?
The Chrome Enterprise Recommended program is specific to partners (like PaperCut) focused on developing and validating enterprise solutions for Chrome (OS/Browser). With validation being the key here, meaning that Google has gone through an extensive validation process not only on the technical solution but also the capability of the partner to support enterprise customers.
Meanwhile, the Google Cloud Partner Program is designed to empower partners with tools, technology, and support to create solutions that integrate with or run on Google Cloud to complement or enhance Google's products. Partners like PaperCut, that have demonstrated the highest levels of technical proficiency, expertise, and impact are elevated to a premier level. As a premier partner, PaperCut works much closer with the Google team to put customers first.
They're two different programs initiated by Google for its customers in association with different partners and vendors across the globe. PaperCut sees significant value in such programs because both Google and PaperCut believe that the best customer solutions are born from collaboration. Together, they're stronger.
Hmm ok. What are my options with PaperCut? Please help me understand more about Mobility Print with PaperCut NG and PaperCut MF?
Chromebook users currently have three PaperCut options:
PaperCut Mobility Print
Mobility Print with PaperCut NG
Mobility Print with PaperCut MF
PaperCut Mobility Print
For many Chromebook customers, this will be an ideal solution. Mobility Print enables:
Easy printing from BYOD or managed Chromebooks (plus Android, Windows, Mac, and iOS)
Secure printing over the internet
Support for practically any printer
Mobility Print with PaperCut NG
Above, plus additional print visibility, control, and data loss prevention.
Mobility Print with PaperCut MF
Above, plus additional print, copy, and scan visibility, control, and data loss prevention. Specific to Google customers, they also get Scan to Google Drive plus document enhancement like OCR, despeckle, deskew, document split.
Here's a handy comparison chart …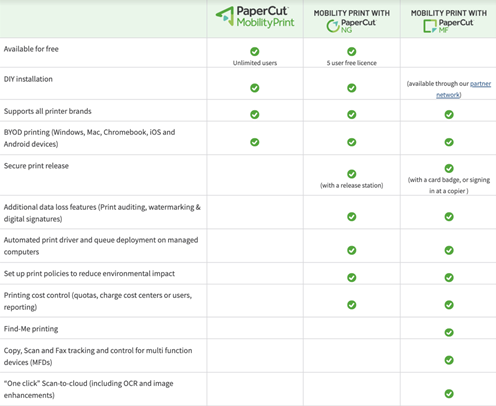 Learn more about each solution here
Here's a video to celebrate the news – feel free to share it.  Joy shared is joy doubled.